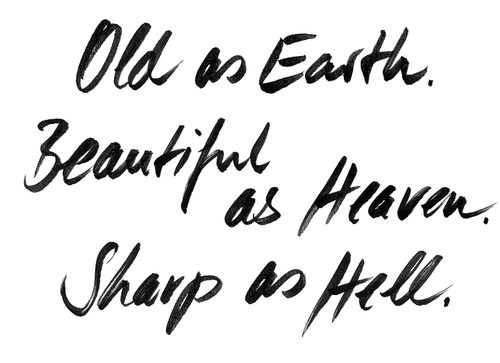 Our Aeon series, limited to 1,500 pieces per blade shape, is a true masterpiece. The blades are coated with DLC (diamond-like carbon) resulting in durability that is as unparalleled as it is beautiful. The exquisite handles are crafted from millennia-old bog oak – each with its own certificate of authenticity. You'll prepare your fresh ingredients with ease, making the most of each precious moment and creating true culinary masterpieces.
Challenge your preconceptions with the knife that redefines cutting.
Manufactured entirely in Solingen, Germany.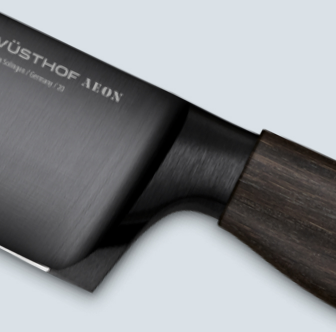 PROTECTIVE FULL BOLSTER
The full bolster protects your fingers and captivates with its exceptional balance.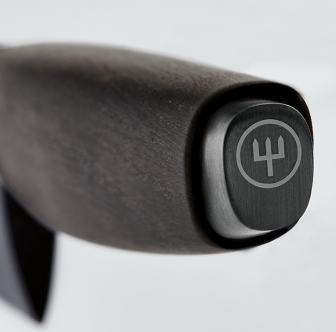 UNIQUE HANDLE
The handle of millennia-old, dark brown bog oak will captivate you, not only due to its branded stainless steel end cap.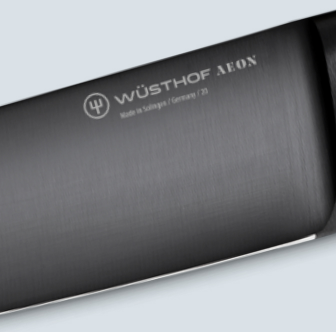 DLC COATED BLADE
Extremely scratch-resistant as the Diamond-like Carbon coating increases the surface hardness to a unique 104 Rockwell.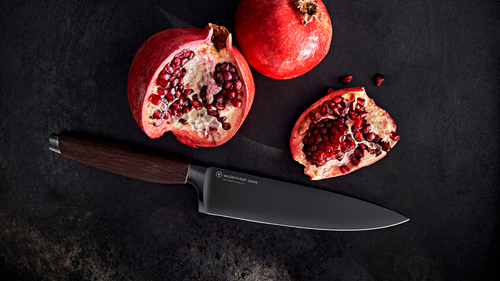 COOK'S KNIFE
Highlights
Cook's Knife, 8 Inches (20 cm)
Only 1,500 pieces available worldwide
Millenia-Old Oak Bog Wood Handle (certificate of authenticity)
Chrome Molybdenum Vanadium Steel
Diamond-Like Carbon
Balanced Double Bolster Design
Exquisite craftsmanship meets state-of-the-art technology

SUPER SLICER
Highlights
Super Slicer, 10 Inches (26 cm)
Only 1,500 pieces available worldwide
Millenia-Old Oak Bog Wood Handle (certificate of authenticity)
Chrome Molybdenum Vanadium Steel
Diamond-Like Carbon
Balanced Double Bolster Design
Exquisite craftsmanship meets state-of-the-art technology

SANTOKU
Highlights
Santoku, 7 Inches (17 cm)
Only 1,500 pieces available worldwide
Millenia-Old Oak Bog Wood Handle (certificate of authenticity)
Chrome Molybdenum Vanadium Steel
Diamond-Like Carbon
Balanced Double Bolster Design
Exquisite craftsmanship meets state-of-the-art technology

CERTIFICATE
Handle made of 3,249 year old bog oak
Download